About Hitachi Air Compressors - Company Overview, Prices and Reviews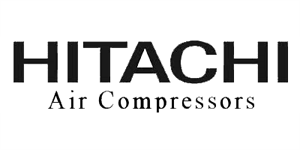 Hitachi provides a wide variety of equipment and services utilized across multiple industries, such as automotive, manufacturing, and production operations. The company strives to assist these industries by supplying high quality, reliable equipment that gets the job done right. Time and again, businesses turn to Hitachi for their compressed air needs.
Hitachi Air Compressor Products
Hitachi produces advanced oil-free and oil-less air compressors perfectly suited for various industrial applications, which are manufactured by the Hitachi Industrial Equipment's Air Technology Group. These compressors maximize efficiency and come with the bonus of air power, air purity, and a space-oriented design. They also offer air compressor combo kits that include fasteners as well as the actual compressor. Hitachi is committed to providing products that deliver contaminant- and oil-free air for any application. These are a few of the air compressors that Hitachi has to offer:
Hot Dog Compressors: A distinct horizontal design, the hotdog compressor takes its name from the cylindrical tank producing the air that allows the compressor to function. Hotdog compressors usually have only one tank, as opposed to multiple. Keep this in mind when you consider the type of work you need your air compressor to perform.
Oil-Less Scroll Air Compressors: Designed with a focus on performance and quality, Hitachi oil-less scroll air compressors provide oil- and contaminant-free air, even under the most demanding of applications.
Pancake Compressors: Pancake compressors are smaller than most of their counterparts in the industrial sector, but they have no problem keeping up. Named for their pancake-like shape, these compressors can be used either in a professional or home setting and are easily carried from place to place. Typically, pancake compressors are used at home for DIY and some automotive work.

Free Air Compressor Quotes From Top Dealers!

Twin Stack Compressors: With two tanks, twin stack air compressors offer a level of power ideal for heavy-duty work. If you're looking for a compressor to use for industrial work, you can't go wrong with a twin stack.
Two-Stage Fixed Speed - DSP Oil Free Rotary Screw Air Compressors: As one of the leading manufacturers of two-stage fixed speed DSP oil-free rotary screw air compressors, Hitachi provides eco-friendly, high performance compressors. Hitachi's two-stage fixe speed DSP oil-free rotary screw air compressor provides contaminant-free compressed air and is one of the best in its class.
Two-Stage VSD - DSP Oil Free Rotary Screw Air Compressors: Hitachi's innovative background in developing industrial-class air compressors allowed them to produce a two-stage VSD-DSP oil-free rotary screw air compressor that provides clean, contaminant-free air. These compressors are ideal for most industrial applications.
Wheelbarrow Compressors: A wheelbarrow air compressor is similar to a hotdog compressor, with the addition of a front wheel and handles, hence the name wheelbarrow. This provides a higher range of portability, allowing wheelbarrow compressors to be easily moved around the home for DIY projects or around and between job sites for construction.
Hitachi Air Compressor Pricing
Many things factor into the total cost of Hitachi air compressors, such as any added accessories, style, and tank size. But the greatest determinant of cost will be the horsepower. Keep in mind that rates may vary from dealer to dealer.
EC710S Portable Pancake Compressor, 6-gallon, 1 HP, oil-free, 2.8 CFM at 90 psi, price range: $250 to $300
Hitachi EC2610E Wheelbarrow Air Compressor, 8-gallon, 5.5 HP, gas powered, 9.5 CFM at 90 psi, Honda GX 160 engine, price range: $945 to $1,000
EC99S 4-Gallon Portable Electric Twin Stack Air Compressor, 4-gallon, 3.1 CFM at 90 psi, 15 Amp electric direct drive induction motor, price range: $200 to $300
KNT50AB Finish Combo Kit,  includes the popular NT50AE2 2" 18-Gauge Brad Nailer and the EC710S Portable Pancake Compressor, 6-gallon, 1 HP, oil-free, 2.8 CFM at 90 psi, price range: $300 to $350
Hitachi Air Compressor Reviews
Critics love the reliability guaranteed by the Hitachi name, praising their air compressors for their durability and resiliency. They also place a lot of weight on the Hitachi name and the manufacturer's global presence.
Author: Angela Escobar
Compare Competing Prices From The Best Air Compressor Pros