About Allegion Access Control - Company Overview, Prices and Reviews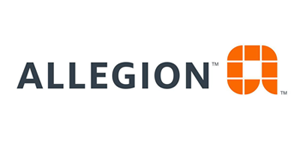 Through their partnerships with leading tech firms, Allegion's extensive line of access control products delivers effective security solutions for everything from small companies with a single point of entry to large, complex organizations with extensive, networked systems. Allegion works with each customer to create the ideal access control system for their needs.
Allegion Access Control System Features
Allegion's access control hardware offerings include:
Complete systems, including door readers, electronic locks, credentials, and accessories that integrate with a variety of technology platforms
Streamlined integration via open architecture platforms
Flexible, scalable security solutions that allow your system to adapt to changing needs
The aptiQ Alliance program, which allows Allegion to collaborate with technology companies to offer more innovative solutions
In addition, the aptiQ Alliance program allows Allegion to collaborate with tech companies, making it possible for the manufacturer to offer a broader, more varied line of access security products.
Allegion designs its access control systems to be flexible and adaptable. You need your building's security to keep up with the fast-paced changes common in today's working environment. At the same time, you need to control costs. That's why Allegion offers fully scalable access control solutions that help you meet the demands of rapid change without buying more than your organization needs right now.
Free Access Control Quotes From Top Brands!
The flexibility of Allegion's systems includes the ability to gradually integrate your new access control hardware with your existing security measures, such as card readers or mechanical keys. Their integrated offerings include:
Electronic cylinders and locks
Access management software options
Wall readers that integrate with networked solutions or biometrics
Allegion's infrastructure includes a vast network of certified dealers and installers, ensuring you receive the maintenance and support required to keep your system operating at optimum levels.
Allegion Access Control Products
With a full suite of access control products, Allegion allows you to create the ideal system, one designed specifically to meet your organization's needs.
Allegion Readers
Allegion's readers are scalable and adaptable thanks to their aptiQ technology, which allows your system to change and grow with you. Do you want to start with a reader that works with your current proximity card credentials but upgrade to smart cards in the future? With aptiQ, that's no problem. Interested in using NFC-enabled phones as credentials instead? That's no problem, either, since their aptiQ readers are already NFC-capable.
Allegion multi-technology reader capabilities include:
Ability to install in any environment, including interior, exterior, metal, and non-metal
Recognition of magnetic stripe, proximity, and smart credentials via MIFARE Classic and MiFARE DESFire EV1
FIPS 201-1 compliant
Easy install thanks to the quick-connect design and n Simple wiring color scheme and mounting bracket
In addition to its multi-technology readers, Allegion offers scaled down, mini-mullion readers that fit any door frame. Choose between smart and proximity credentials for these units.
Allegion Credentials
The Allegion line of credentials includes physical, smart, mobile, and biometric options.
aptiQ with MiFARE DESFire offers multiple security levels and the industry's speediest data transfer speeds. Cards allow both proximity and smart technology.
aptiQ credentials with MIFARE Classic tech are designed for organizations whose security needs are less stringent. Cards allow both proximity and smart technology.
aptiQmobile allows authorized personnel to use their smartphone as they would physical credentials. Just download the app, hold the phone to the aptiQ reader, and access is granted.
Through its partnership with Schlage, Allegion offers biometric technology that verifies identity via hand geometry, a popular option in industries with advanced security needs, such as airports, data centers, healthcare facilities, daycare centers, government buildings, and universities.
Allegion Commercial Electronic and Mechanical Security
Allegion also partnered with Schlage for its electronic and mechanical security offerings. Their electronic locks and mobile credentials are user-friendly, versatile, and designed to meet the most stringent security needs reliably.
Their commercial mechanical security options include:
Break-in- and vandal-resistant door hardware
ADA-compliant levers
High security key systems
Portable security products
Allegion Access Control System Pricing
Pricing varies according to the type of system you choose, your preferred credential method, dealer, and much more. In general, you can expect to pay between $1,500 and $2,500 for an installed system that uses a keypad or physical credentials, and upwards of $10,000 for one with biometric technology.
On average, expect to pay around $1,700 for a complete system per door or point-of-entry. The credentials themselves, such as key fobs and cards, average between $5 and $10 each.
aptiQ MT15 Multi-Technology Reader averages between $150 and $200
aptiQ MTK15 Multi-Technology Reader Keypad averages between $250 and $350
aptiQ Multi-Technology Mullion Reader averages between $150 and $200
Schlage Biometric Terminals average between $1,600 and $2,200
Schlage Multi-Technology Magnetic Stripe Reader averages between $350 and $400
aptiQ SM10 Contactless Smart Card Reader ranges from $80 to $125
aptiQmobile ranges between $175 and $225
aptiQ Smart Key Fobs range between $2 and $5 each
aptiQ Smart Cards range between $6 and $8 each
aptiQ Smart Credential Wristbands range between $6 and $8 each
Author: Angela Escobar
Compare Competing Prices From The Best Access Control Pros