About Kisi Access Control - Company Overview, Prices and Reviews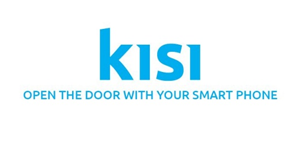 Kisi differentiates itself from the competition through its sole focus on using mobile credentials to grant building access instead of traditional means such as security badges. With Kisi access control systems, employees either hold their phones near the door reader or open the Kisi app and enter their password. You may also forego passwords by using smartphones with biometric authentication. With a Kisi system, your organization chooses the process that works best for your needs.
Kisi Access Control Features
One of the Kisi access control system's selling points is that employees typically take more care with their smartphones than they would traditional badge credentials.
In addition to accessing the building via mobile phones, you can also perform reporting and administrative functions via your smartphone. This allows administrators to grant building access even when the administrators aren't physically present, using any connected device. Reporting features include real-time auditing and tracking of door unlocks. In addition, the Kisi system sends alerts notifying you of unusual activity.
The Kisi technology integrates with video surveillance to simplify visual authentication from your mobile device. It also centralizes access to all doors via the dashboard.
Two drawbacks are technology limitations and a lack of integrations. The Kisi app only works on iOS and Android platforms, so employees using Windows smartphones cannot use it. However, you can use third party credentials for these employees.
Free Access Control Quotes From Top Brands!
Kisi also does not integrate with emergency platforms such as intrusion, fire, and carbon monoxide alarms. Of course, you may also use a third party for these, but that typically comes at a higher cost.
Kisi Access Control Products
Kisi offers full access control systems. Their products include:
User credentials include mobile technologies and key cards that communicate with their proximity door readers
Proximity door readers with multiple technology options, including:

Bluetooth for iOS; authorized users simply tap their phone to unlock the door
Near field communication (NFC) for Android and Kisi Pass

Access control API is cloud-based and integrates with back-end CRM, syncs membership to access groups, and sends notifications when it detects suspicious unlocks
Kisi Access Control Pricing
The price of your system depends on the number of door readers and users.You'll pay a monthly service fee of $50, plus $4 per authorized user.
Hardware includes the Kisi Pro door controller, which starts between $800 and $900. The Reader Pro wall reader averages between $200 and $250. Your monthly fee covers the cloud-based software, which includes automatic updates.
Kisi Access Control Reviews
Critics appreciate Kisi's strong reporting features and access technology, as well as its user-friendly application and installation. Managing and monitoring the system is simple and administrative access does not require being on-site.
They also point out that it's a great option for businesses looking to enhance their current security measures, particularly if they already implemented smart locks and video surveillance.
Critics' main complaints revolve around potential accessibility issues (i.e. power or Wi-Fi outages) and the minimal integration options. Many of the features common with other access control providers, such as intrusion and fire alarms, are missing from the Kisi system.
Author: Angela Escobar
Compare Competing Prices From The Best Access Control Pros