Armstrong Steel Building Prices, Reviews, Complaints & Company Overview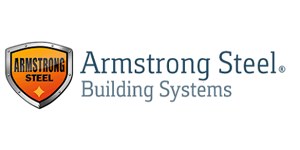 Armstrong Steel Buildings wants to be the company that makes a difference. The Armstrong goal is saving their customers money while still providing high-quality products that meet their needs for years to come.
Working with clients across the U.S., Canada, and Central America, Armstrong Steel believes that savings means more than a number on an invoice. The manufacturer incorporates innovative methods of reducing costs for its customers, such as designing products that are more energy efficient. They also work to improve the lives of the people living in their community by supporting education and conserving natural resources. At Armstrong Steel, their mission is helping people live better lives.
Free Steel Building Quotes From Top Dealers!
Armstrong Steel Building System Features
Armstrong's steel buildings feature precision engineering and hand detailing, with each unit undergoing triple quality checks. The manufacturer's goal is for every Armstrong product to arrive perfect, complete, and ready to erect.
The Roof
Starting at the top, Armstrong buildings feature roofs made with 26- or 24-gauge steel, a yield of 80,000 psi, and a 35-year rust warranty. Compare these specs to some competitors who use 29-gauge steel and only offer a 20-year rust warranty.
The roofing system itself uses a purlin bearing rib (PRB) panel system and a full corrugation overlap instead of R panel systems with only a one-third overlap. The full overlap offered by Armstrong provides greater leak protection.
For even greater leak protection, Armstrong uses a 1" double-beaded mastic tape where sheets overlap, both vertically and side by side. When drilling into sheeting, screws hit the mastic tape, which seals the screw and creates another barrier. Beware manufacturers who use only a 3/8" mastic tape, as well as one without the double beading.
The Fasteners
Armstrong provides a lifetime warranty on their fasteners, guaranteeing them against oxidation and rusting. Their neoprene washers prevent overdrilling, so sheets don't tear and eventually leak. In addition, fasteners are available in colors to match your roof.
Avoid companies using zinc or cadmium-plated fasteners. Zinc rusts and cadmium plating oxidizes, causing black streaks.
The Paint Coatings
Armstrong's 40-year rust warranty is an industry first. Most manufacturers offer either a 10- or 20-year warranty.
The Secondary Framing
Purlins, girts, and door jambs are pre-galvanized to protect against rust and extend the life of your steel building. It also leads to lower maintenance costs and improves your building's appearance. Avoid steel buildings that use red oxide primers. These encourage corrosion but many manufacturers choose them because the red color helps disguise rust.
How Much Do Armstrong Steel Buildings Cost?
Steel building prices vary considerably depending on a number of factors. Size, vendor, location, add-ons, and local building codes all influence price. However, you can use the following estimates for a four-wall, gable style building as a guide.
The base price per square foot ranges between $7 and $10
Accessories and add-ons range between 15 and 25 percent of the basic building cost
The foundation averages around $7 to $9 per square foot, depending on size and location
If you hire a contractor to install your building, expect to pay around $10 per square foot
For example, the base price of a 40'x60' unit (2,400 square feet) with a faux brick facade works out to around $59,600:
$22,000 for the building
$10,000 for accessories
$19,600 for the foundation
$8,000 for construction
Armstrong Steel Buildings Reviews
For the most part, reviews of Armstrong Steel Buildings are extremely positive. They earn high marks for their commitment to customer service and for using the best quality materials in their construction, as well as for being knowledgeable, steel building experts.
They're also praised for excellent quality and only loading steel members at 80 percent capacity, meaning components last longer due to not being weighed down. The company also receives acclaim for its high-level clients (including Dow and Microsoft) and for being featured in respected publications such as Forbes, Inc.
Reviewers also note Armstrong's prolific community outreach and charitable efforts.
Customers praise the entire process, from first contact through to final delivery, saying that their in-house team did a great job with designing and engineering their buildings.
There were some negative customer reviews as well, mainly focused on sales tactics. Some reviewers complained that Armstrong's sales personnel were too pushy with one claiming that they were mislead as to what their contract covered. In particular, this reviewer advises making sure your contract includes everything you expect the final product to have.
Author: Angela Escobar
Compare Competing Prices From The Best Steel Building Pros