Miracle Truss Steel Building Prices, Reviews, Complaints & Company Overview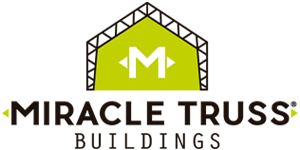 Miracle Truss Buildings is one of the top prefabricated building choices for contractors and DIY enthusiasts alike. A hallmark of their steel buildings is their web steel truss, which offers a simple, four-step bolt design that allows easy assembly, even for the amateur erecting his or her first steel building.
Miracle Truss buildings are what the industry considers a hybrid steel building, as they use wood studs. These span the building, connecting to the steel trusses every two feet. The manufacturer states that the wood studs make it simple to add batt insulation and a wide variety of finishing options.
About Miracle Truss Buildings
Miracle Truss is on its second life. When the original owners decided to close their doors, veteran employees (both literally and figuratively) opted to keep the company going. Today, this family-run business ships its building kits throughout North America and Europe.
Free Steel Building Quotes From Top Dealers!
The new owners decided to place a greater focus on its customer support efforts to determine - and provide - what people truly wanted and needed in their steel buildings. In addition, they've made structural improvements for greater quality. The goal of the new Miracle Truss is to deliver a high-quality product at a great price.
Miracle Truss Buildings Products
The manufacturer offers a wide array of steel buildings, each customizable and available in multiple sizes.
Agricultural buildings: When you need a reliable, durable way to store and protect livestock, grain, feed, and equipment, a metal agricultural building kit meets your needs.
Commercial and industrial buildings: Whether your goal is expanding your current facility or building a new one, these DIY commercial and industrial building kits can be customized for anything from a retail space to a manufacturing plant.
RV and marine steel buildings: When you need a safe way to store your recreational vehicles, such as boats and ATVs, a steel building is a cost-effective choice.
Steel aircraft hangars: Airplanes and helicopters represent a significant investment that you definitely want to protect. Steel aircraft hangars are customizable and easy to put together.
Steel garage: These buildings are ideal for additional storage (and, of course, parking for your vehicles). They assemble quickly and easily with easy-to-understand instructions. The steel garage is also a popular choice for people looking to build a workshop for hobbies, metal working, and vehicle repair.
Steel residences and cabins: This is one of the fastest growing steel building functions: personal residences. The steel construction offers protection against fire as well as a more hypoallergenic environment than is provided by conventional construction methods. These buildings also go up more quickly and at a fraction of the cost compared to traditional residential construction.
Steel storage buildings: If you have an ongoing need for extra storage for your home or business, consider the prefabricated storage kit instead of a mini-storage facility. Available in a variety of sizes and colors to fit any budget or design need.
How Much Does a Miracle Truss Steel Building Cost?
Estimating the cost of a steel building presents a challenge because there are so many variables that affect price. The building's size, customization options like windows and insulation, local building codes, and more contribute to the overall price. In addition, hybrid steel buildings require you to buy the lumber required for the wood studs.
Please note that the below prices are for the basic building and do not include delivery or any add-ons.
Miracle Truss steel building, 24' x 40' x 10', 6:12 roof pitch, steel truss legs, 42 PSF ground snow load, 100 mph wind load, price range: $10,500 to $9,000
Miracle Truss steel building, 30' x 36' x 10', 4:12 roof pitch, steel truss legs, 42 PSF ground snow load, 100 mph wind load, price range: $10,000 to $12,000
Miracle Truss steel building, 40' x 60' x 14', 4:12 roof pitch, steel truss legs, 42 PSF ground snow load, 100 mph wind load, clear span roof, price range: $17,500 to $18,500
Miracle Truss steel building, 60' x 84' x 16', 4:12 roof pitch, steel truss legs, 30 PSF ground snow load, 100 mph wind load, clear span roof,price range: $37,500 to $39,500
Miracle Truss Buildings Reviews
Reading reviews of Miracle Truss Buildings presents a tricky scenario, because the vast majority of them are quite old (over 5 years) and are a reflection of the previous owners. The most recent customer reviews found express zero issues with the product or the company, stating that the delivery was complete and on time, support was excellent, and the plans were sufficient to pass local inspections and building codes.
Reviews further back, however, show a company with serious customer service issues. Customers state a variety of complaints as regards pushy sales tactics, rude responses to questions and concerns, and miscommunications that led to incorrect deliveries, overcharging, and warranty problems.
It is always a good idea to conduct your own research into a company before making any purchase but especially a major purchase such as a steel building. However, you should also pay close attention to when the review occurred, giving more weight to recent reviews. Changes in ownership, management, and procedures often lead to improvements (or deterioration) in services and/or products. In addition, ask the vendor or manufacturer for reviews and testimonials.
Author: Angela Escobar
Compare Competing Prices From The Best Steel Building Pros