Olympia Steel Building Prices, Reviews, Complaints & Company Overview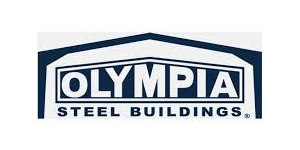 Olympia Steel Buildings has over 30 years' experience in the pre-engineered metal building industry. The manufacturer supplies North America with steel buildings courtesy of its partnership with the Universal Steel Buildings Corporation, which itself has over 40 years in the industry.
Agencies that rely on Olympia Steel Buildings include agricultural, commercial, government, military, and residential.
The Benefits of Olympia Steel Buildings
Olympia's goal is creating a partnership with its customers to ensure they understand and deliver exactly what the customer needs. They provide complete prefabricated metal buildings for a variety of uses and employ cost-effective manufacturing practices.
The company promises to always use the highest quality, commercial-grade U.S. steel with every building designed and manufactured by highly trained, experienced personnel. Their buildings come with 26-gauge Galvalume roof panels that carry a 40-year limited rust warranty.
Free Steel Building Quotes From Top Dealers!
Olympia Steel guarantees personalized service with prompt response times and on-time delivery. Their number one goal is serving the customer. That's one of the reasons the company provides detailed, step-by-step instruction for constructing your steel building.
Olympia Steel Building Products
Olympia offers a wide array of steel buildings with flexible design at an affordable price.
Agricultural steel buildings: Olympia includes customization options for its agricultural steel buildings to ensure they work for any purpose. Use these models to store grain, feed, livestock, and equipment. Designs come in a variety of sizes and paint options.
Churches: When your religious community needs a warm, welcoming place to worship, Olympia offers an affordable solution. Customize your design to include an altar, ministry space, and choir loft. And, the manufacturer has a proven record in designing quality metal churches.
Commercial steel buildings: Save time over conventional construction methods with a steel commercial building. Customization options include insulation, doors, windows, and lighting.
Garages: Available in a variety of sizes, a steel garage protects your vehicles from the elements. These buildings also work for extra storage space or as a workshop.
Industrial steel buildings: Whether you're starting a new business or expanding an existing one, these structures are perfect for warehouses, heavy equipment storage, welding shops, and more.
Mini-storage buildings: The design of these units maximizes available space and meets or exceeds industry standards. Choose from a variety of sizes and colors.
Recreational steel buildings: Communities, schools, and businesses are turning to steel buildings as a cost-effective solution for building a recreation center. Olympia uses a clear span design to create buildings up to 200' wide, perfect for sports, community events, assemblies, and more.
How Much Does an Olympia Steel Building Cost?
Steel building pricing varies widely according to size, additional features such as insulation and doors, and location. In addition, the foundation and labor costs to erect the building cost extra, as do delivery and equipment necessary to accept delivery.
The following prices should help with budgeting:
A basic Olympia steel building averages between $15 and $20 per square foot
Customized buildings average between $20 and $40 per square foot
Erecting the building yourself costs around $10 per square foot for materials
Pouring the concrete foundation averages around $6 per square foot
Add around $8 per square foot for labor costs
Insulation costs around $2 per square foot
Examples of average costs for the building itself include:
Steel garage building kits average between $6,000 and $8,000
A 30' x 40' Quonset hut averages between $7,000 and $8,000
Examples of steel building costs that include extra features include:
A 30' x 40' steel building that includes foundation and installation averages between $25,000 and $35,000
A 30' x 50' steel building that includes two doors averages between $12,000 and $13,000
A 60' x 80' that includes insulation, two doors, and three windows averages between $35,000 and $40,000
Olympia Steel Building Reviews
The vast majority of Olympia's customer reviews are overwhelmingly positive. Most praise the manufacturer for turning out a high-quality product that exceeded their expectations. They compliment Olympia's designers, sales professionals, and customer support team as a whole for being highly responsive and answering questions in easy to understand language.
Customers also appreciate the fact that their steel building kit arrived when expected and contained all expected components. They also note that the customization options were extensive and truly served their needs. And, the cost was lower than expected. Finally, they praise the warranty and the company's long history in the industry.
It's important to also mention the negative reviews. A small portion of Olympia's customers, around 10 to 15 percent, report polar opposite experiences with the manufacturer.
Timely delivery: Some customers complain that Olympia was late with delivery, anywhere from 24 hours to a month or more.
Complete delivery: Complaints include missing or damaged components.
Responsive: Some customers said they were unable to reach customer support once the sale was complete.
Cost: Most cost complaints revolve around miscommunication concerning total price.
Sales/customer support: Some customers (mostly potential customers who did not end up purchasing from Olympia) complained that the company's sales personnel were overly pushy. Those who went on to buy complained that they couldn't get responses to questions or concerns once they agreed to buy.
Unexpected costs: A few customers complained that they hadn't realized they'd have to rent heavy equipment to unload their steel building kit delivery. The cost of these rentals typically fell in the $500 to $1,000 range.
Author: Angela Escobar
Compare Competing Prices From The Best Steel Building Pros