Curvco Steel Building Prices, Reviews, Complaints & Company Overview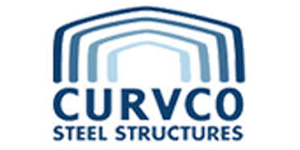 Based in America but with worldwide distribution, Curvco uses the finest, commercial-grade, U.S. steel available in its pre-engineered steel buildings. The company offers ready-to-erect metal building kits as well as customized solutions, with models ranging anywhere from 10' to 140' wide.
Curvco Steel Buildings' designs work for a variety of applications, including agricultural, commercial, industrial, and residential. The manufacturer meets the Buy American Act's requirements and they supply steel buildings to the United States government and its military.
The Benefits of Curvco Steel Buildings
Curvco's steel buildings are durable and practically maintenance-free. Plus, their kits are easy to assemble, saving you time, money, and energy. The company ensures complete customer satisfaction with its Perfect Care program. It starts with a building estimator walking you through each step of the process. The goal is ensuring a smooth, pleasant experience that results in a high-quality product that fulfills your needs and respects your budget.
Free Steel Building Quotes From Top Dealers!
When you sign on with Curvco, you receive a 24-hour toll free hotline with agents available nights and weekends to answer questions about your project. In addition, the manufacturer's customer care and technical service team is always available. Curvco Steel's goal is 100 percent customer satisfaction.
Curvco Steel Building Products
Curvco offers a wide array of prefabricated steel building products.
Agricultural Steel Buildings
Curvco's agricultural buildings assemble quickly and are ideal for workshop, storage, and equipment repair applications. Their metal barns have a maximum width of 140' with no limit as to building length. The clear span design means there are no obstacles, and no roof trusses allows for top-loading corn and grain. And, with no place for pests to nest or perch, your crops stay protected and your floors stay free of droppings. No roof trusses also allows maximum hay bale storage capacity.
Aircraft Hangars
Curvco's hangar designs also feature clear span frames for obstruction-free interiors and trussless roofs. This maximizes storage space while reducing hiding and nesting areas for nasty pests, for improved safety and cleanliness. And, the 100 percent American steel construction protects your building against leaking, sagging, rotting, warping, and termites.
Commercial Steel Buildings
Fast, easy, and economical, commercial steel buildings are a terrific solution when you need to quickly add office space, storage, or employee housing. They also make great warehouses and distribution centers. If budget and time present a challenge, commercial steel buildings go up quickly and easily, and maintenance is a breeze.
Steel Garage Kits
Whether you need shelter for your regular vehicle, boat, or recreational vehicle, a garage kit from Curvco is a durable, low-cost option. Don't let the simple, bolt-together construction fool you; these designs withstand hurricane-force winds and heavy snow.
Industrial Steel Buildings
Curvco's industrial models are perfect for commercial paint booths, equipment repair, hazardous materials storage, conveyor cover systems, and light manufacturing. In addition, the quonset huts are popular with government agencies looking for storage for their landscaping and road service needs.
Prefabricated Steel Homes
Highly affordable and easy to customize, prefab steel homes help turn homeowner dreams into reality. Aesthetically pleasing with curved features and modern architectural features, Curvco's metal home kits offer unequaled strength and durability.
Steel Workshops
Curvco offers clear span workshop buildings with a simple bolt construction that requires no heavy equipment to assemble. Perfect for automotive workshops or residential applications, these designs arrive complete with an erection manual that includes drawings and workshop plans, with step by step instructions for seamless construction.
How Much Does a Curvco Steel Building Cost?
Pricing for steel buildings varies widely due to numerous variables that affect cost. Size, building codes, accessories, and more lead to price variations. The following are basic estimates that do not include the cost of your foundation or extras such as insulation, doors, windows, gutters, interior panels, or trim.
Curvco 116031P-Model steel building: 30'x46', one endwall with framed openings, 100 percent certified USA steel, Galvalume construction, 40-year warranty, price range: $9,000 to $11,500
Curvco 116306P-Model steel building: 30'x62', one endwall with framed openings, one solid steel endwall, 100 percent certified USA steel, Galvalume construction, 40-year warranty, price range: $12,000 to $16,400
Curvco Production Special Q-Model: 51'x100', roof systems, open endwalls with adaptor angle, Galvalume construction, 40-year warranty, price range: $17,000 to $23,600
Curvco Steel Building Reviews
Reviewers praise the standard warranty offered by Curvco - 35 years on rust perforation and 40 years on color coatings. They also like the broad range of sizes and the manufacturer's green building initiatives, which include Energy Star ratings and options such as solar panels and water catchment channels.
Reviewers also note that Curvco works with clients from around the world, crediting this with their designs' ability to withstand a wide variety of climates and weather events. They also report that the company has highly reputable clients, particularly their military contracts. Finally, reviewerslike the Q model, which is a quonset style building that comes in at around 50 percent of competitor pricing for large span buildings.
The manufacturer's customers appreciate the support they received throughout the buying process, the special services offered by Curvco to assist with pricing, and durability of the product itself. They also praise the company for its timely delivery, and that they achieve this without rushing the build or design processes.
Author: Angela Escobar
Compare Competing Prices From The Best Steel Building Pros