Heritage Steel Building Prices, Reviews, Complaints & Company Overview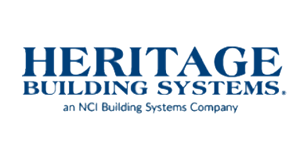 In business since 1979, Heritage Building Systems is one of the oldest steel building manufacturers in the United States. Although their metal buildings are prefabricated, the company allows customization to ensure the structure fits your needs. Add on windows, doors, metal panels and walls, and more. Heritage steel buildings come in a wide variety of sizes and styles, with options available for numerous functions, including agricultural, commercial, recreational, and mini-storage facilities.
About Heritage Building Systems
Heritage Building Systems has spent the past four decades building its reputation as a leader in the steel building industry. Its founders began their construction careers in masonry and large equipment operation but launched Heritage after noting increasing demand for metal buildings.
Free Steel Building Quotes From Top Dealers!
The mission of Heritage is to give every customer a steel building designed to meet their specific requirements. Their metal building kits include arenas, barns, garages, office buildings, churches, and more.
Heritage has designed and delivered over 40,000 buildings. They use only high-quality materials and paints to ensure the long life of their prefabricated steel buildings.
Heritage Building Systems Products
Heritage steel buildings come in a wide array of styles and sizes, with each option fully customizable to ensure it meets your needs.
Agricultural Steel Buildings
Metal agricultural buildings are a popular option because they typically require less maintenance than buildings of a similar size made with conventional construction materials. They're ideal for storing everything from crops to feed to livestock to equipment.
Heritage uses an all-steel, rigid frame construction for greater durability. These buildings typically exceed traditional structures as far as their ability to withstand harsh weather conditions, including heavy snow, driving winds, and extreme cold. And, if you choose a clear span frame building, you maximize usable space.
Commercial Steel Buildings
Heritages offers industrial steel buildings at widths up to 600', with dimensions available is 1/16" increments, ensuring you get the exact size building you need. Commercial buildings include warehouses, office buildings, manufacturing facilities, and retail spaces. The manufacturer uses its finest raw materials, including paint systems, for its commercial steel buildings.
Mini-storage Facilities
As one of the leading forces in developing the cold-formed self-storage building, Heritage is a recognized innovator in this industry. They also helped pioneer computerized pricing and engineering systems. Whether you're new to the industry or a seasoned veteran, the manufacturer is a solid choice for mini-storage buildings. Their team helps guide you through aspects like lot size, security features, your plans for expansion, and unit mixes. In other words, they offer customers a lot more than a steel building.
Recreational Steel Buildings
One of the fastest growing steel building functions is recreational facilities. This includes community centers, gymnasiums, sports fields, banquet halls, churches, and more. Heritage's customization options allow you to design a recreational building to fit just about any activity.
Steel Steel Buildings
A metal storage building is an ideal choice whether your goal is expanding the storage capacity of your current facility or designing a dedicated storage unit. Since they're available in such a wide variety of sizes, these buildings are ideal for storing pretty much any item, from overstock inventory in a retail environment to a fleet of aircraft.
Heritage offers three categories of storage buildings, each constructed according to your size requirements:
Standard: Ideal for inventory or office overflow
Large: Ideal for large machinery, aircraft, heavy equipment, and oversized vehicles
Large roof-only: Clear span steel buildings with no interior columns for maximum space and maneuverability
How Much Does a Heritage Steel Building Cost?
A variety of factors dictate steel building prices, starting with the building's size. In addition, the vendor, local building codes, and extra features increase your cost. The prices listed below do not include any add-ons such as doors and insulation, the foundation, or delivery fees.
Heritage Steel Building, 28' x 32' x 12'6", upgraded 26-gauge PBR roof and wall panels, 4:12 pitch Galvalume roof, 12' x 10' framed opening, 20 psf load limit, price range: $8,900 to $12,500
Heritage Steel Building, 40' x 60' x 12', upgraded 26-gauge PBR roof and wall panels, 1:12 pitch Galvalume roof, 10' x 10' framed opening, 3' x 7' insulated walk door, price range: $12,300 to $13,500
Heritage Roof System Steel Building, 60' x 100' x 16', upgraded 26-gauge PBR 1:12 pitch Galvalume roof, 20 psf load limit, 115 wind speed rating, price range: $24,100 to $26,500
Heritage Building Systems Reviews
For the most part, reviews of Heritage Building Systems are positive. Consumer watchdog sites praise the company's long history in the industry as well as its certifications and professional affiliations. These include the Metal Building Manufacturers Association and the International Accreditation Service.
Reviewers also note that Heritage offers multiple convenient options for customers requiring assistance, including live phone operators and web chat. In addition, they note the manufacturer's numerous steel building options and majority positive customer reviews.
Customer feedback on the company focuses mainly on whether the materials show up according to the schedule, the erection instructions were clear and accurate, the delivery was complete and included all components, and the building itself met their expectations. There are also comments about the customer service provided and whether sales personnel were too pushy.
Timely delivery: For all the reviews found that mention delivery, feedback indicates it was timely and matched the schedule communicated by the manufacturer.
Clear and accurate instructions: Most customers say that the erection manual was clear and easy to understand, though some claimed they had difficulty understanding the instructions. Around half of reviewers, even those who said they could understand the instructions, said they experienced difficulty constructing their steel building kit.
Complete delivery: No complaints were found that delivery did not include all components (one of the more common complaints about steel buildings).
Customer service: Most customers praise the customer service provided by Heritage, stating that their support team answered questions and were very knowledgeable. However, some customers do complain that reaching a support person is very difficult and, when they did reach someone, the representatives were unable to answer questions about the customers' confusion over the erection plans.
Sales personnel: No complaints were found that sales personnel were overly pushy or misleading.
Structure quality: Most customers express complete satisfaction with their steel building. Some, however, said that the components were not as sturdy as advertised, with roofs collapsing due to heavy snow (despite materials promising they could handle heavy snow loads).
Author: Angela Escobar
Compare Competing Prices From The Best Steel Building Pros