Freedom Steel Building Prices, Reviews, Complaints & Company Overview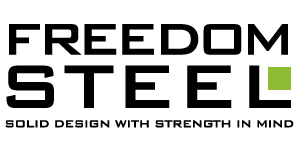 Freedom Steel Buildings is an industry leader thanks to their commitment to designing durable, high quality buildings and providing their customers exemplary service. The manufacturer's steel building offerings include agricultural buildings, riding arenas, storage facilities, aircraft hangars, and mini storage buildings.
One of the ways Freedom Steel makes the process easy for its buyers is by providing blueprints along with state engineer-stamped and -sealed anchor bolt summaries. This standard feature comes in handy when it's time for permitting and inspections.
The Customer Comes First with Freedom Steel
The Freedom Steel philosophy is that, if you treat people with respect, you can solve any problem. Their commitment to customer service is the manufacturer's top priority.
Free Steel Building Quotes From Top Dealers!
A key component of Freedom Steel's focus on the customer is their dedication to creating durable, high-quality steel buildings using 100 percent American components. From there, the manufacturer offers a skilled, in-house team of manufacturing, engineering, and service professionals with the training and experience required to design and build pre-engineered steel buildings of the highest quality.
Freedom credits its success to its customer-centric focus, which keeps the company going strong even during the ups and downs inherent in the construction industry. Today, the company is celebrating a dozen years operating in the United States, with more than half-a-century of prior history manufacturing in Europe and South Africa. It is now a Fortune 500 company that continues to grow.
Freedom Steel's Standard Features
When buying a steel building, it's important to understand which features come standard with your building. One of the most common customer complaints with any brand is the expectation that their building included features that the standard pre-engineered unit does not.
Primary framing elements
Commonly referred to as columns and rafters, Freedom welds all of its primary elements using an I-beam configuration. The manufacturer uses a twin-arc submerged welding system that allows the creation of clear span steel buildings at widths up to 200'. Application of a primer coating before shipping helps protect your building's beams during erection.
Secondary framing elements
These include eave struts, girts, and purlins. For their eave struts, Freedom uses 12- to 16-gauge steel in a C form that matches the roof pitch. They also add strength to their steel buildings with diagonal cable bracing to all units except those that require portal framing. This option is stronger than sheeting or diaphragm bracing.
Freedom buildings use 26-gauge PRB panel Galvalume roof sheeting. Panels are dipped in an aluminum and zinc compound that imparts greater strength and helps the roof stand up against the elements.
Other standard features
Fasteners: Self-drilling fasteners coupled with neoprene washers allow for quick drilling and a watertight seal. Roof fasteners come with a 25-year warranty.
Structural bolts: Each building includes pre-punched holes as well as the nuts and bolts needed for erection.
Closure strips: Pre-formed closure strips match panel profile and protect against the weather when placed at the eave.
Ridge cap: Matches the roof's contour and slope to create a tight seal.
Trim: Standard trim gives your building a clean appearance (gutters and downspouts are optional).
Plans and drawings: You receive anchor bolt plans to ensure proper placement on the foundation as well as engineer-stamped and certified prints. Plus, a manual that walks you step by step through the erection process.
How Much Does a Freedom Steel Building Cost?
With so many variables affecting price, accurate estimates are nearly impossible. In addition to the cost of features such as insulation and windows, the building's size, local building codes, construction, and your chosen vendor all contribute to the final price. The following are basic costs and do not include add-ons, installation, or shipping.
Freedom Steel building, 30'x32'x12', upgraded PBR roof and wall panels with rust-proof fasteners, bypass girts on sidewalls and flush on endwalls, 32 PSF ground snow load, 8'x8' and 3'x7' framed openings, 115 mph wind load, price range: $11,300 to $13,500
Freedom Steel building, 60'x55'x16', upgraded PBR roof and wall panels with rust-proof fasteners, bypass girts on sidewalls and flush on endwalls, 32 PSF ground snow load, 14'x14' and 3'x7' framed openings, 115 mph wind load, price range: $26,450 to $30,500
Freedom Steel Building Reviews
Reviewers note that Freedom Steel does business around the world and enjoys an excellent reputation wherever it operates, including the United States, Canada, Europe, and the Caribbean. They also earn high marks for their eco-friendly practices, such as using LEED-certified products.
Nearly 40 percent of the manufacturer's business comes in the form of referrals, an excellent indicator of their customers' satisfaction with both their steel building and the company itself. Finally, Freedom Steel's extensive online presence allows the curious ample opportunity to learn more about the business before choosing to purchase.
Author: Angela Escobar
Compare Competing Prices From The Best Steel Building Pros