RHINO Steel Building Prices, Reviews, Complaints & Company Overview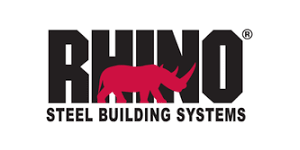 RHINO Steel Building Systems celebrates its twentieth anniversary this year. That's 20 years operating by the manufacturer's golden rule: Treat customers the way you want to be treated.
Building its reputation on treating customers with honesty, integrity, and respect, RHINO boasts a 33 percent reorder rate and an A+ rating with the Better Business Bureau. The manufacturer provides its steel buildings to all 50 states as well as Canada and Mexico.
RHINO manufactures steel buildings for nearly any industry, including agricultural, automotive, aircraft hangars, garages, industrial and manufacturing, recreational, storage, and warehousing.
Free Steel Building Quotes From Top Dealers!
Why Choose RHINO?
The manufacturer offers competitive pricing, unique features, and guarantees its steel buildings meet local building codes. Some of the benefits of a RHINO steel building include:
Purlin bearing rib (PBR) roof with 26-gauge wall panels
Instead of a flush bolt, panel purlins overlap at the main beam for improved strength and structural support
Galvalume sheathing includes cast aluminum zine fasteners with a lifetime warranty on red rust formation on the zinc head
Ethylene propylene diene monomer (EPDM) sealing washers for a waterproof seal that protects against UV rays
25-year structural warranty
100 percent commercial-grade rigid steel frame
Formed base trim for attaching steel wall panels provides leak resistance, improved durability, and protection against deterioration
Formed base trim available in colors that complement wall panel color
The formed base also saves you time and money compared to the notched concrete method more commonly used
RHINO Steel Building Systems Products
RHINO offers a wide range of steel building types, including:
Agricultural steel buildings: Ideal for storing crops, feed, livestock, and equipment. Options include open air and indoor riding arenas, barns, stables, machine shops, multi-purpose buildings that include office space, and storage buildings.
Aircraft hangar steel buildings: Resilient, long-lasting, and practically maintenance-free, options include structures to house a variety of aircraft as well as buildings to accompany your hangar, including offices, shade structures, private terminals, and maintenance buildings.
Commercial steel buildings: Whether starting a new business or expanding an existing one, these structures go up quickly and cheaply, especially compared to conventional construction methods. Use them for restaurants, retail spaces, office buildings, storage, and more.
Metal churches: Available in a variety of sizes and customization options to fit your congregation's unique needs. Prefab metal church buildings are an affordable option and include designs for administrative offices, music rooms, youth centers, fellowship halls, counseling centers, meeting rooms, and more.
Steel industrial building: Applications are practically limitless and include aircraft hangars, equipment storage, industrial parks, meat-packing plants, oil and gas buildings, processing plants, recycling centers, sawmills and lumber yards, truck terminals, warehouses, and welding shops.
Steel recreational building: Structures feature ceilings 40' or higher and a clear span frame for obstruction-free interiors. Useful for sports, community centers, banquet halls, and more. Choose RHINO's Pro-Value Insulation Package for improved climate control and reduced energy costs.
Steel warehouse building: Perfect for distribution centers, materials handling, and warehouses of any size, from 5,000 square feet to 500,000 square feet or more.
How Much Does a RHINO Steel Building Cost?
Pricing varies widely depending the building's size, the accessories you choose, your local building codes, and even the current cost of steel. Typically, shipping, foundation, and erection are not included in the building price. In addition, you may have to rent heavy equipment capable of accepting delivery (weight loads measure in the thousands of pounds).
For a standard, 5,000 square foot steel building that includes insulation, two overhead doors, one pedestrian door, engineer-stamped plans, shipping, and a letter of certification, you can expect to pay:
Around $8 per square foot for the kit as described above
Around $6 per square foot for a 4" thick concrete slab foundation
Around $4 per square foot for erection that includes insulation and common accessories
RHINO also offers prefabricated kits, such as:
RHINO steel building kit, 100' x 150' x 16', gutters and downspouts included, 2:12 pitched roof with 5 psf snow load capacity and 3 psf collateral load, price range: $70,000 to $86,000
RHINO steel building kit, 105' x 192' x 16', gutters and downspouts included, 2.5:12 pitched roof with 5 psf snow load capacity and 3 psf collateral load, price range: $110,300 to $113,800
RHINO Steel Building Systems Reviews
Most RHINO customers report highly satisfactory experiences with the company. The majority of customers said they've recommended RHINO to others and that they would buy again or have already done so.
Common praise includes:
Sales personnel were helpful, answered questions willingly, gave multiple quotes over a period of time without expressing frustration, and did not use pushy sales tactics.
Components arrived on time and as promised. When there was an issue noted, RHINO acted quickly to remedy the situation. Even negative reviewers mentioned that the company remedied errors quickly.
Pricing was considered fair, even by customers who reported a negative experience overall.
The company's representatives communicated with customers throughout the process
Around 10 percent of customer reviews express complaints about their RHINO experience. Interestingly, the majority of them were not with the company itself, and no reviews found disparaged the quality of the product itself. Nearly every negative comment centers on the subcontractor hired to erect the building. As RHINO offers the names of these contractors, customers unhappy with their builder place some of that blame on the manufacturer. If you choose to buy a RHINO steel building, review the contractor you hire to erect the building to help ensure a positive experience.
Author: Angela Escobar
Compare Competing Prices From The Best Steel Building Pros