Andersen Window Prices, Reviews, Complaints & Company Overview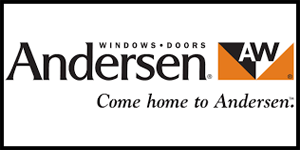 For over 100 years, Andersen Windows has helped fill homes and businesses with natural light. Part of the the Andersen Corporation, the North American company distributes its products throughout the world, including Asia, Europe, the Middle East, and South America.
About Andersen Windows
The first Andersen factory opened in Wisconsin in 1903. Growth was rapid, attributed mainly to its 10 Minute Window, and within a decade Andersen outgrew its original plant. So, in 1913, the company built a new plant in Minnesota, where its headquarters remain today.
Since Hans Andersen opened that first plant in 1903, Andersen Windows has been an industry leader in innovation. Highlights include:
Distributing the first completely assembled window in the 1930s
The Victory Window in the 1940s, so called because it used 97 percent less metal (important during the war)
Window glass that resists frost and condensation in the 1950s
The Andersen family includes American Craftsman Windows & Doors, Andersen Storm Doors, Renewal by Andersen Window Replacement Services, and Silver Line Windows & Doors. The company is well-respected by homeowners and contractors alike, with builders relying on Andersen windows more than any other brand for over 20 years.
Request Window Installation Price Quotes Using Our Free Tool
Get connected to the top rated window contractors in your area and get free competitive estimates. No obligations to hire, ever!
Products by Andersen Windows
The Andersen product line includes literally dozens of windows in numerous colors, operational styles, shapes, and materials.
Double-hung windows: The common style features a single frame with two sashes that slide up and down, allowing you to open and tilt a single sash for easy window cleaning.
Single-hung windows: Similar to double-hung but with a single sliding sash.
Casement windows: These tall, narrow windows feature hinges along one side to open from either the left or the right. Available in single and complementary, side-by-side styles that open and close with a single handle.
Bay and bow windows: Constructed using double-hung or casement windows, these are part of Andersen's 400 series and come in seven exterior and two interior colors.
Picture windows: Designed to add light to a room, these windows feature a single frame with a stationary panel. Available in the 100, 200, 400, and A series.
Awning windows: With top hinges, the sash opens outward and provides side-to-side ventilation. Available in series 100, 400, and A.
Gliding windows: As the name implies, the sashes of these windows slide horizontally. The 100 and 200 series feature one stationary and one gliding slash, whereas both sashes slide in the 400 series.
Speciality windows: These stationary windows bring light and style into a room and are available in a variety of design choices, including:

Curved specialty window: 100, 200, 400, and A series
Flexiframe polygon specialty window: 400 series
Circle or oval specialty window: 400 and A series
Polygon specialty window: 400 and A series
How Much Do Andersen Windows Cost?
Pricing varies widely based on size, style, series, vendor, and more. The following prices do not include any extras, such as screens, hardware, or accessories. Also, expect to pay between $100 and $400 for installation, depending on the window size and whether it's a new window or a replacement for an old one.
Andersen PermaShield 100 Series Single-Hung Window, 27.75" x 53.5", Fiberex composite material, hardware auto locks when window is closed, low-E SmartSun glass, insect screen included, price range: $240 to $300
Andersen PermaShield 400 Series Casement Window, 24.125" x 48", solid wood sash, low E-4 glass, single actuation lock, screen included, price range: $340 to $430
Andersen PermaShield 400 Series Double-Hung Window, 37.625" x 56.875", real wood interiors, tilt-to-clean design for easy cleaning, low E-4 glass, screen included, price range: $400 to $475
Andersen PermaShield 400 Series Double-Hung Window, 37.625" x 56.875", Finelight grilles in colonial pattern, grilles between glass panes and tilt-to-clean design for easy cleaning, low E-4 glass, screen included, white exterior, price range: $490 to $565
Andersen Windows Reviews
Andersen is one of the best known window brands in the world and the company earns high marks from reviewers for its longevity and extensive product line.
One of the reasons the company is so successful is that it offers an incredibly diverse line of windows and doors for nearly any budget, decor, and price point. Homeowners can mix and match styles, colors, and shapes to create truly unique rooms or get the exact look they want.
The company's website also offer a wide variety of resources, including a complete catalog of all current window options and advice to guide you through the process, from choosing your window to installing it.
Installation is via third party, but Andersen provides certification training to help customers ensure they hire the right person for the job. However, if you purchase one of the Renewal by Andersen windows, Andersen provides a highly-trained installer.
In general, customers praise Andersen Windows for providing durable products that met all expectations and were long-lasting. The price point was slightly higher than some competitors, but customers expected that and knew they were paying for higher quality.
However, one common complaint (nearly across the board) is that the service offered by Andersen customer support is seriously lacking. Feedback here includes:
Representatives gave false or inaccurate information
Being transferred by customer service led to being stuck in a "transfer loop"
Interminable hold times
No resolution if you call with a problem or issue
All in all, customers like Andersen products, particularly the wide variety and high quality. They caution future buyers, however, that if something goes wrong, don't expect assistance.
Author: Angela Escobar
Find Window Companies Who Will Compete for Your Business