JELD-WEN Window Prices, Reviews, Complaints & Company Overview
-->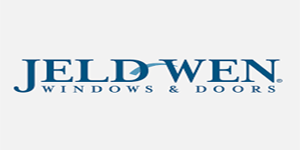 One of the leading manufacturers and marketers in the window industry, JELD-WEN offers high-quality and stylish windows available in aluminum, clad, vinyl, and wood. Their new-construction and multi-replacement lines can be purchased through independent dealers and home centers in a variety of popular styles.
About JELD-WEN Windows
JELD-WEN was founded by Richard "Dick" Wendt along with business partners John Biehn, Bill Taylor, Larry Wetter, and Gerry Wickersham. Wendt learned how to run a manufacturing company while working for his father, Lester Wendt, an executive at Caradco. In 1960, after Caradco decided to sell their millwork plant at auction, Wendt and his associates bought up many of the assets and named their new company JELD-WEN, which comes from an acronym for the names of Richard Wendt's immediate family members and an abbreviated version of Wendt.
It did not take long for JELD-WEN to gain a reputation for reliable products and after only two years the company achieved enough success to expand into new manufacturing plants and products. Today, they have distribution, manufacturing, and showroom locations across 24 countries and the U.S., with around 21,000 employees worldwide.
JELD-WEN Products
JELD-WEN offers multiple window styles and product lines, designed with commercial and residential needs in mind. No matter the requirements of the job, they have the right window for you. Here are a few of the windows available from JELD-WEN:
Request Window Installation Price Quotes Using Our Free Tool
Get connected to the top rated window contractors in your area and get free competitive estimates. No obligations to hire, ever!
Awning windows: Sometimes combined with picture windows, awning windows push out to open from the bottom and are hinged at the top.
Bay/Bow windows: These windows provide aesthetic and depth, extending outward from the wall of a room. They do not usually open.
Casement windows: Casement windows are hinged on the sides, offering maximum ventilation by opening outwards.
Double-hung windows: The sashes on double-hung windows tilt inwards to allow for easier cleaning, with both the lower and the upper sashes opening vertically.
Fixed windows: Commonly referred to as picture windows, these windows do not open. They are primarily meant for aesthetics and bringing more natural light into a room and are available in a multitude of styles and materials.
Garden windows: A three-sided window with an outward-facing picture window, venting windows on each side, a glass top, and shelf on bottom.
Single-hung windows: Unlike double-hung windows, only the lower sash of a single hung window slides open vertically. The upper sash does not move.
How Much do JELD-WEN Window Cost?
The amount of windows purchased, as well as the series, sizes, styles, and vendor purchased from all factor into the cost of your JELD-WEN windows. What follows is a general pricing guideline to provide an idea as to what you can expect to spend.
JELD-WEN V-2500 Single-Hung Window, 23.5" x 35.5", vinyl, easy-glide system prevents slamming, simple cam-lock hardware, traditional grid design, price range: $150 to $200
JELD-WEN V-4500 Fixed Picture Window, 35.5" x 47.5", vinyl, fusion weld frame, multi-chamber design, non-opening, accidental glass breakage coverage, price range: $200 to $250
JELD-WEN V-4500 Casement Window, 35.5" x 47.5", vinyl, left-handed, double pane, low-E glass, simple cam-lock hardware, entire sash opens, price range: $300 to $400
JELD-WEN W-2500 Casement Window, 36.75" x 48.75", auraLast wood guaranteed not to rot, BetterVue screen included, simple cam-lock hardware, traditional grid design, price range: $450 to $550
JELD-WEN V-4500 Bay Window, 73.5" x 43", vinyl, center window fixed, casement, fixed or single-hung side window options, 30 or 45 degree angles available, price range: $1,250 to $1,350
Bear in mind that this pricing does not include any additional accessories, hardware, or screens. Installation will also be an additional cost that ranges between $100 and $350, depending on the size and type of installation.
JELD-WEN Reviews
JELD-WEN carries with them a reputation for easily accessible, quality products and the majority of customer reviews reflect this. Many consumers find that the company offers sturdy stock windows at an affordable price, and enjoy that they have the opportunity to get a closer look at JELD-WEN merchandise as opposed to having to look purely at the website (JELD-WEN windows are available in a variety of physical stores). However, some have found that the customer service offered by JELD-WEN is lackluster, noting that their support team does not handle issues or warranty claims on the windows well, if at all.
It is important to make sure that you read through customer reviews while doing research on different products and product lines. You want to have the complete picture before making any final purchasing decisions.
Author: Angela Escobar