Pella Window Prices, Reviews, Complaints & Company Overview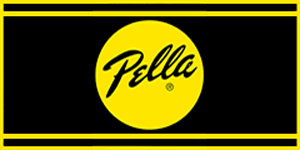 Named for the small Iowa community where it was founded, Pella is the second largest manufacturer of windows and doors in the country and is still a family owned business. With a commitment to customer service, eco-friendly products, and innovative design, it's no wonder that Pella has gained a reputation for quality products from a quality company.
About Pella Windows
In 1925, Lucille and Pete Kuyper decided to invest in a revolutionary new window screen, one that rolled up and down like a shade, leading the couple to form a company that is still running strong over 80 years later. Pella was founded on the ideals of providing excellent service and the desire to improve the lives of employees and customers alike. The company has a long history of innovation, with more than 150 design and product patents. They are also deeply committed to protecting the planet, with a storied legacy of environmental stewardship and partnerships with industry organizations that share the same passion.
The Pella Line of Products
Pella offers a variety of window sizes and styles. No matter the job or the room, Pella has what you need to do it right.
Request Window Installation Price Quotes Using Our Free Tool
Get connected to the top rated window contractors in your area and get free competitive estimates. No obligations to hire, ever!
Awning windows: Hinged at the top, awning windows swing outward from the bottom and are often paired with other types or styles of window for visual appeal or to let in more light.
Bay/Bow windows: These windows add aesthetic and depth to a room, extending beyond the wall they are built in to. They are generally a combination of multiple windows and do not open.
Casement windows: Ideal for difficult to reach areas, casement windows open outwards and are hinged at the sides.
Double-hung windows: Comprised of an upper and a lower sash, both sashes are able to be opened and can tilt for easier cleaning.
Single-hung windows: Unlike double-hung windows, single-hung windows have only the bottom sash opens, with the top sash remaining stationary.
Sliding windows: Sliding windows are pretty much exactly what they sound like: windows that slide open horizontally.
How Much Do Pella Windows Cost?
Pella windows pricing varies according to region, custom orders, vendor, and more. However, this is a general pricing guide so as to provide a better idea of the general cost of Pella windows:
A Pella 24" x 24" dual-pane window, vinyl, averages between $85 and $115
A Pella ThermaStar, 32" x 54" , vinyl window averages between $150 and $200
A Pella ThermaStar 53-72" x 48", vinyl window averages between $200 and $300
A Pella 30-32" x 54-58" wood, dual-pane window averages between $200 and $300
A Pella 29" x 59" casement, twin, vinyl window averages between $250 and $350
A Pella 36" x 60", single-hung, dual pane, vinyl window averages between $300 and $400
Pella's bay and bow windows range between $500 and $1,500 or more per window
Keep in mind that installation will also add to the final cost, with the cost determined by the complexity of the job as well as the size and type of the window. Installation typically costs between $100 and $400 for standard windows and between $1,000 and $1,500 for bay or bow windows.
Pella Windows Reviews
WIth almost a century of designing and producing windows under their belt, it is no surprise that customers have a lot of positive things to say about Pella. Customers enjoy the company's commitment to sustainability and to their customers. Several consumers boast of the customization allowed by Pella, all without losing any quality or service. The company also offers online and phone support, providing anyone with the ability to pour through videos and posts about their products or schedule appointments with service personnel.
While many love the service and products offered by Pella, not all consumer reports are positive. Some customers have had issues with warranty claims, stating that Pella did not honor the warranty. There are also those who talk about faulty installation leading to wall damage or damage to the windows being installed. It is always best to have a certified professional do any installations and even better if they are familiar with the brand and product you have chosen. Always make sure to research customer reviews, both positive and negative, in addition to the companies and products themselves before making any final purchasing decisions.
Author: Angela Escobar
Find Window Companies Who Will Compete for Your Business