Milgard Window Prices, Reviews, Complaints & Company Overview
-->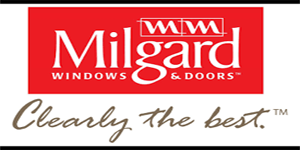 Milgard Windows, while mainly known for their vinyl products, manufactures a wide range of different styles and types of windows, made from various materials other than vinyl, such as aluminum and wood. Their windows range from minimalistic, simple styles all the way up to elegant and upscale designs. Milgard also has a Quiet Line, specifically designed for increased noise reduction.
About Milgard Windows
The story of Milgard Windows begins in 1958, when Gary Milgard joined his father, Maurice Milgard, Jr., in starting the Milgard Glass Company. The business soon added aluminum windows to their portfolio of products. In 1962, Gary Milgard left the family business to start Milgard Manufacturing, an aluminum window fabrication company that branched into sliding glass doors in 1968. The first Milgard window with a vinyl frame was introduced in 1989, kicking off the style that the company would come to be known for. The Masco Corporation purchased the company in 2001.
The Milgard Product Line
Milgard has a variety of window sizes, styles, and types available across their different product lines. Whatever windows you need, Milgard has a solution for you and your home. Here are some of the windows offered by the company:
Request Window Installation Price Quotes Using Our Free Tool
Get connected to the top rated window contractors in your area and get free competitive estimates. No obligations to hire, ever!
Arch and radius windows: These windows often look similar to casement windows, with a curve at the top of the frame. They can be either functional or stationary.
Bay and bow windows: Adding depth and a pleasant aesthetic, bay and bow windows extend beyond the walls of a room. They are generally made up of three or more windows and do not open.
Casement windows: A single-pane window with a hinge along one side. Most of the casement windows offered by Milgard are crank-operated.
Garden windows: Garden windows extend beyond the home and have a shelf within the window, which is usually used to store plants that benefit from the large amount of natural light that the window lets in.
Horizontal slider windows: With two side-by-side sashes, horizontal slider windows tend to be wider than they are tall. The two types of horizontal slider windows are double sliders (both sashes slide open) and single sliders (only one sash slides left or right).
Jalousie windows: Only available for purchase in Hawaii, jalousie windows are designed for homes located in temperate climates that experience mild winters. It has parallel cedar or glass panes that open at any angle.
Picture windows: This window is designed purely for aesthetics and does not open.
Skylight windows: Skylight windows are stationary and used in ceilings in order to bring more light into a room.
How Much Do Milgard Windows Cost?
The pricing of Milgard windows depends on multiple factors, such as the amount of windows being purchased, as well as the series, size, and style of window. Also remember that different vendors offer different prices. What follows is a general pricing guide to provide a general idea as to what you can expect to pay for Milgard windows.
Milgard Tuscany Series Horizontal Slide Window, 22" x 14", vinyl, easy-glide system, SmartTouch lock, SunCoat low-E glass, price range: $130 to $175
Milgard Montecito Series Awning Window, 24" x 20", vinyl frames won't rot, peel or fade, folding crank handle, SunCoat low-E glass, 1/8" thick glass, price range: $240 to $260
Milgard Style Line Series Radius Window, 30" x 15", vinyl frames won't rot, peel or fade, slope sill frame, standard flat pattern grid, SunCoat Max low-E glass, 1/8" thick tempered glass, price range: $240 to $370
Milgard Aluminium Series Casement Window, 30" x 36", vinyl frames won't rot, peel or fade, net frame size, standard flat pattern grid, SunCoat Max low-E glass, 1/8" thick tempered glass, white fold down crank, price range: $350 to $380
Milgard Ultra Series Bay Window, 48" x 36", vinyl, center window fixed, casement, fixed or single-hung side window options, standard crank, 45-degree angles available, price range: $1050 to $1150
Note that these prices do not include things like accessories, custom colors, hardware, or screens. You will also need to pay for installation, which can cost between $100 and $350 depending on the window's size and whether it is a new or replacement window.
Milgard Windows Reviews
Milgard has built a reputation as a company that prides itself on customer service and quality products, and customer reviews seem to echo these sentiments. Customers enjoy the variety of styles that the company has to offer, as well as the guidance that the company provides when it comes to deciding the best sizes and styles of window for your home.
People also appreciate the sustainability of Milgard products. However, it should be recognized that there are customers that have been unsatisfied with the longevity of MIlgard windows and have claimed that they have had issues with the company delaying or rejecting warranty claims. However, many negative customer reviews have been responded to directly by Milgard, asking that the customer contact them to see what they can do about the problem.
Before any purchase, read any reviews while performing brand and product research in order to get a complete picture of what you are getting into.
Author: Angela Escobar