Toast POS System Prices, Reviews, Complaints & Company Overview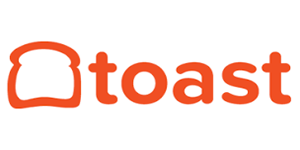 Toast is a cloud- and Android-based POS (point of sale) system designed for restaurants. The goal of the system is to make the everyday operations of food service easier and smoother. Whether you own a sit-down restaurant, quick-service restaurant, or a local coffee shop, Toast is there to handle all your POS needs.
About Toast
Toast, Inc. was founded by Steve Fredette, Jonathan Grimm, and Aman Narang to provide restaurants with an intuitive POS system that simplifies and streamlines the job. The company has grown to nearly 1,000 employees since it launched in 2013 and in 2017, Forbes listed Toast as one of the world's hottest cloud computing companies.
POS systems from Toast were developed to give restaurant owners a solution that could easily manage all of their operations in a way that improved the experience for workers and customers alike. While the founders of Toast didn't have a restaurant, they do come from a background in developing enterprise software. Since the industry they came from was all about listening to their customers, they applied that same experience to developing a better, restaurant-focused POS system.
Working with industry experts and input from prospective customers, Toast was able to create a system made specifically for restauranteurs. From the beginning, the most important thing to Toast has been its customers.
Free POS System Quotes From Top Dealers!
Toast POS System Features
POS systems from Toast are cloud- and tablet-based (specifically with Android operating systems; they are not compatible with Apple) point of sale solutions. There are a variety of features included to make your job easier, such as:
Business visibility: Since Toast POS is a cloud-based, Android-based system, you are able to easily monitor your business in real time. Quickly access sales numbers and other reports at the touch of a button and keep up-to-date with alerts and notifications.
Flexible Android app: Toast POS systems are Android-based, which allows it to integrate with various third-party apps. This provides a simple way to manage several functions all from your POS system.
Gift and loyalty programs: Restaurants are able to sell gift cards both in store and online, as Toast POS systems are able to create physical and digital gift cards. It also has an integrated loyalty program that can link to customer card or phone information.
Inventory tracking: Toast's inventory tracking feature provides the ability to view food stock, prices, suppliers, and units all in real time. It also lets you reorder what you need to, when you need to, as well as automatically downloading cost, inventory, and menu reports.
How Much Do Toast POS Systems Cost?
Providing an exact cost for Toast POS systems is difficult, as the pricing is highly flexible and dependent on your needs. The following is a general pricing guide to provide an idea of what you can expect to pay for your Toast POS system:
Toast POS software has a starting cost of $79 per terminal
Add-ons such as kiosk features and online ordering carry an additional cost that averages between $25 and $50 per month
Installation has a starting cost of $499, with 0 percent interest, 36-month financing available
Hardware has a starting cost of $899 and includes a 10" terminal, magnetic card reader, and flip stand
Toast POS System Reviews
All in all, customer reviews for Toast POS systems are highly positive, with many customers finding it offers features comparable to high-end, well known systems. People commonly praise the system for its ease of use and intuitive design. Customers also enjoy the customer information tracking features of the system, saying that it makes it easier to engage with their clientele.
Though many are happy with their point of sale system from Toast, there are also those who have had issues with the company. Customers have spoken about problems reaching Toast's support, saying that representatives are difficult to get in touch with and provide contradicting information. Other reviewers have complained about the speed and connectivity of the system, saying that it has led to issues with register balancing and payments.
As with any purchase, be sure to read all available reviews before making a final decision. Don't be afraid to ask other business owners in similar industries how it has worked for them; it's the best way to see how it will work for you.
Author: Angela Escobar
Compare Competing Prices From The Best POS System Pros