Big Joe Forklift Prices, Reviews, Complaints & Company Overview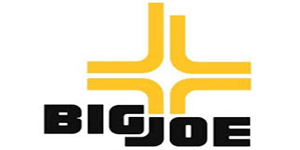 No matter what your forklift needs may be, Big Joe Lifts Inc. is there to help you take care of business. The company's ultimate goal is to help you improve efficiency in the workplace, while reducing the strain on your employees and equipment. In addition to a full line of lifts, Big Joe offers parts, rentals, repairs, and service to ensure your Big Joe product lives a long and fruitful life.
About Big Joe
For over 60 years, Big Joe lifts have been a staple of store rooms and warehouses everywhere. The Big Joe brand and factory were purchased in 2009 and organized into a new company: Big Lift LLC. Though the ownership may have changed, the company is still known for vehicles that are able to fit a wide range of uses (whether it be in the commercial, industrial, or retail industry) and for providing exceptional service and support for those vehicles. They also boast a history of durable products and low maintenance costs, making them an ideal choice for any business looking to keep a low total ownership cost.
For Big Joe, the customer is, and always has been, priority number one. They strive to maintain a focus on customer satisfaction and service, doing everything they can to help you with any new or old Big Joe products. The same drive, focus, and work ethic that started Big Joe is alive and well in the company today.
Free Forklift Quotes From Top Dealers!
Big Joe Products
Big Joe offers a variety of forklifts to suit any and all needs, with some vehicles being perfect for any application. One such vehicle is the V Series 3-wheel electric rider forklift. Available in V15, V18, and V20 models (with 2,800, 3,500, and 4,500 pound capacities respectively), these forklifts are AC powered, durable, and offer low operation costs.
V Series 3-wheel electric rider forklifts have brushless motors and an optimized electrical current, minimizing your servicing needs. They feature neutral braking, allowing for higher travel speeds and the elimination of truck roll-back. These lifts can be adjusted to handle nearly all load types, operator skill levels, and working conditions.
How Much Do Big Joe Forklifts Cost?
The total cost of your Big Joe forklift depends on factors such as additional accessories or hardware, lift type, weight capacity, and the vendor it is purchased from. Here are some general prices to give you a better idea of what you can expect to pay for a Big Joe forklift:
Big Joe V15 3-wheel forklift: This unit has a lift capacity of 2,800 lbs to 118" at a 24" load center. It features a compact design with a turn radius of 57" and pricing ranges between $24,400 and $26,500.
Big Joe V18 3-wheel forklift: With a lift capacity of 3,500 lbs to 118" at a 24" load center, the V18 3-wheel forklift offers more heft than its V15 counterpart. It is rated to operate on up to a 14.5 percent grade when empty and a 10.5 percent grade when loaded. Pricing ranges between $26,300 and $29,600.
Big Joe V20 3-wheel forklift: Able to move the heaviest loads of any of the Big Joe V Series forklifts, the V20 3-wheel forklift has a lift capacity of 4,000 lbs to 118" at a 24" load center. It combines a high stability chassis, long wheelbase, low center of gravity, and wide tires to move heavy loads as safely as possible. Pricing ranges between $28,500 and $35,200.
Used forklifts are available for those on a tight budget, but it is important that you thoroughly check the lift to ensure it is in proper working order. While a used vehicle will save money, you need to make sure that it has the features and functions that your business needs. Expect to pay around half the price of a new unit, depending on the brand and number of operation hours.
Big Joe Forklift Reviews
Customer reviews for Big Joe forklifts are almost unanimous in their praise of the durability and quality of the brand. Whether new or used, people that purchase and employ the use of Big Joe lifts find them to operate smoothly and without issue.
It is also common to find consumer reviews that talk about the high level of customer service that the company offers through the entire process of buying and using your forklift. Overall, the majority of customers agree that Big Joe forklifts make their job easier.
As with any product, it is important that you read through all available reviews before making any final purchasing decisions.
Author: Angela Escobar
Compare Competing Prices From The Best Forklift Pros