Yale Forklift Prices, Reviews, Complaints & Company Overview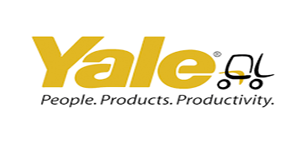 With over 130 years of business behind them, Yale is one of the oldest forklift manufacturers in the world. For over a century, the company has remained committed to its goals of providing (and constantly improving) the best possible lift solutions for their customers. No matter what your forklift needs may be, Yale has the products and experience to help.
About Yale
Initially founded as a lock company by Linus Yale Jr. in 1844, Yale has been a business synonymous with durability and quality for over a century. The company's philosophy on business is best summed up by their tagline: People. Products. Productivity. For Yale, the people come first, because the company recognizes that it is the customers and employees who matter most. This is why they make sure to provide only the best possible forklifts and service around. Because at the end of the day, you matter to Yale, and they want to help increase your business's productivity.
Yale Forklift Products
Yale offers several types of forklifts at varying levels of performance. Some of the forklifts available from Yale are:
Free Forklift Quotes From Top Dealers!
ERP025-030VC: Designed for maneuvering through tight spaces, this series of 3-wheel electric forklifts is a cost-effective and productive solution for environments where space is a concern. It offers incredible flexibility, as the hydraulics and traction can be customized. The battery life and speed can also be maximized by trained Yale technicians.
ERP080-120VM: With lift capacities coming in at 8,000, 9,000, and 10,000 pounds, these 4-wheel electric forklifts provide a more eco-friendly alternative to internal combustion lifts. Forklifts in the ERP080-120VM series work for indoor or outdoor applications and come with pneumatic tires.
GP135-155VX: This series of internal combustion forklift offers low costs without cutting back on performance. It has ergonomic features that keep the operator comfortable and safe, as well as an auto-deceleration system that enhances brake life.
GP190-280DC: Forklifts from this series offer high capacities and are designed for heavy-duty application and environments. Ideal for outdoor applications, these internal combustion lifts are engineered to increase productivity.
How Much Do Yale Forklifts Cost?
The cost of Yale forklifts varies depending on additional accessories, lift height, lift type, and load capacities. Prices also vary from vendor to vendor. What follows is a general pricing guideline to give you an idea of what you can expect to pay for your Yale forklift.
Yale GLP50VX Forklift, 5,000-pound lift capacity, LPG fuel, Kubota 2.5L engine, pneumatic tires, 3-stage mast, 86" lowered and 147" raised heights, price range: $43,900 to $46,000
Yale GTP060 Forklift, 6,000-pound lift capacity, pneumatic tires, 4-stage mast, side shift, 82" lowered and 189" raised heights, dual fuel, price range: $50,000 to $52,000
Yale GDP100 Forklift, 10,000-pound lift capacity, Kubota diesel engine, pneumatic tires, side shift, 3-stage mast, 212" maximum raised heights, price range: $82,500 to $84,750
Yale GDP360 Forklift, 36,000-pound lift capacity, 3-stage mast, diesel fuel, Cummins 6.7L engine, pneumatic tires, side shift, 273" maximum raised height, price range: $210,000 to $215,000
If you are working with a tighter budget, used forklifts are also an option. Just make sure that any used lift you are considering has all the features you need and is in proper working order. A used unit offers significant savings, but if it does not perform to your needs then those savings are worthless.
Yale Forklift Reviews
Yale has been in the business of forklifts for decades, and in that time they have come to be known as a company that produces quality products and service. Customer reviews echo this sentiment, with the majority of customers finding that Yale forklifts increase productivity and efficiency. Customers also enjoy the spectrum of lifts that the company has to offer, with both electric and internal combustion forklifts perfectly suited to a variety of tasks.
Though most customer reviews for Yale forklifts are positive, there are customers that have issues with the company. Specifically, some customers have talked about problems they had getting warranty claims approved. There are people that state the company stalled on approving claims or outright rejected claims and did not take responsibility for the issues the customer was having. Always make sure to read any available reviews when looking to purchase a forklift.
Author: Angela Escobar
Compare Competing Prices From The Best Forklift Pros