Jungheinrich Forklift Prices, Reviews, Complaints & Company Overview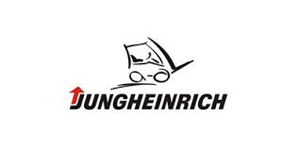 Known for their low costs and technologically advanced designs, Jungheinrich has been a major contender in the forklift game for decades. The company produces lifts with electric as well as internal combustion engines and has weight capacities that range from 2,000 to 19,800 pounds. No matter what your forklift needs may be, Jungheinrich is there to help.
About Jungheinrich
For over 65 years, Jungheinrich has worked to develop advanced, innovative designs for their forklifts. Their commitment to their customers and to constantly improving themselves has earned a them a reputation for exceptional service and reliability. The company's products are supported in North America through the Mitsubishi Caterpillar Forklift America Inc. dealer network. This ensures that customers are able to get expert service and support at a local level.
Beyond providing customers with innovative designs and local support, Jungheinrich is committed to sustainability, working to make their lifts more eco-friendly and energy efficient. If you want a forklift you can count on from a company you can trust, then Jungheinrich is the right brand for you.
Jungheinrich Forklift Products
Jungheinrich offers a variety of lifts in both electric and internal combustion engine types.
Free Forklift Quotes From Top Dealers!
Electric Counterbalance Forklifts
Compact and allowing for high maneuverability, Jungheinrich's electric counterbalance forklifts come at a lower cost while still delivering strength. They can be used indoors or outdoors for a variety of applications. Jungheinrich's electric lifts have weight capacities reaching up to five tons. Here are some of the electric counterbalance forklifts that Jungheinrich has available:
EFG Series 3: These are high performance forklifts that can be used in nearly any application. EFG Series 3 lifts offer compact masts for increased visibility, low energy consumption, and weight capacities up to 4,400 pounds. Ideal for smaller areas, these lifts can maneuver through tight spaces without sacrificing strength.
EFG Series 4: Perfectly suited to indoor or outdoor or outdoor applications, EFG Series 4 electric forklifts from Jungheinrich utilize PureEnergy technology, providing lower costs and energy consumption without losing performance. Series 4 forklifts have weight capacities up to 6,600 pounds and consume up to ten percent less energy than comparable brands and models.
EFG Series 5: With weight capacities ranging from 5,500 to 11,000 pounds, EFG Series 5 forklifts offer incredible strength and the ability to handle even the toughest of applications. Series 5 lifts also utilize PureEnergy technology and consume up to 20 percent less energy than comparable competitor models.
Internal Combustion Counterbalance Forklifts
Internal combustion engine forklifts are the powerhouses of the industrial and warehouse marketplaces. Pound for pound, they can haul, lift, and push through more than other types of forklift. These rugged machines offer high performance and power, ready to take on even the most heavy-duty applications. Some of the internal combustion counterbalance forklifts that Jungheinrich offers include:
DFG/TFG 316/320: Sturdy and built with high-torque motors, these forklifts offer minimal noise, reduced fuel consumption, and smooth operation. These lifts are known for their long service lives and reliability.
DFG/TFP 425/430/435: Designed for peak visibility and utilizing wear-free wet-disc brakes, these forklifts provide optimal efficiency. They are built with counterweight designs that keep the center of gravity low, allowing for enhanced safety and stability.
DFG/TFG 660/670/680/690/S80/S90: Built with powerful four- and six-cylinder turbodiesel and V8 LPG motors, these forklifts are powerhouses designed to operate in tough conditions. Their ergonomic design and strong motors, however, keep both driver and vehicle fatigue low and allow for increased efficiency.
How Much Do Jungheinrich Forklifts Cost?
The exact price of a Jungheinrich forklift is difficult to pin down, as it varies based on additional accessories, engine type, lift height, lift type, and weight capacity. Prices also change from vendor to vendor. What follows is a pricing guide to provide a general idea as to what you can expect to pay for your Jungheinrich forklift.
Jungheinrich EFG220 3-Wheel Forklift, 4,400-pound lift capacity, pneumatic tires, 3-stage mast, electric motor, 42" fork, 255" maximum lift height, 48V, price range: $18,000 to $20,000
Jungheinrich DFG425S Forklift, 5,000-pound lift capacity, diesel fuel, 3-stage mast, 185" raised height limit, side shift, pneumatic tires, price range: $19,000 to $21,250
Jungheinrich EFG218K 3-Wheel Forklift, electric motor, 4,000-pound lift capacity, pneumatic tires, 48V, Curve Control turning, 255" maximum lift height, price range: $29,500 to $32,000
Jungheinrich DFG425S 4-Wheel Forklift, 5,000-pound lift capacity, 185" max lift height, side shift, 3-stage mast, pneumatic tires, 42" fork, diesel fuel, price range: $18,400 to $22,500
If you are working with a tighter budget, used forklifts are always an option. Just make sure to verify that the used lift has all the features you need and is in proper working order. Used lifts offer significant savings, but if it doesn't perform the way you need it to then you could be wasting your money.
Jungheinrich Forklift Reviews
The majority of customer reviews for Jungheinrich forklifts are incredibly positive, with many being especially happy with the company's electric lifts. People enjoy the extended use they are able to get from these vehicles, stating that they get multiple shifts' worth of work from a single charge. And, while dust and moisture can be an issue for electric forklifts, Jungheinrich has sealed command modules, drive motors, and loom connectors. This prevents dust buildup, but also allows users to pressure wash the unit, something that customers find makes their cleaning and maintenance a lot easier.
Though people are largely pleased with their Jungheinrich forklifts, there are those who have had issues with warranty claims. Some customers have stated that the company denied claims despite the problems being because of the manufacturer and that Jungheinrich claimed the operator was to blame. As with any product, it is important to read through any available reviews before making a final purchasing decision.
Author: Angela Escobar
Compare Competing Prices From The Best Forklift Pros