AthenaHealth EMR Software Prices, Reviews, Complaints & Company Overview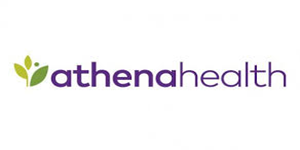 Designed by doctors for ultimate usability, athenaHealth offers a streamlined EMR system designed to decrease the time you spend on administrative tasks so you can focus on your core mission: treating patients.
Every athenaHealth tool is HIPAA-compliant and updates regularly to ensure your practice or hospital meets changing regulatory requirements.
About AthenaHealth EMR Software
Although athenahealth offers multiple healthcare-based IT solutions, athenaClinical is the provider's EMR solution for electronic charting. Other products include athenaCollector, athenaCommunicator, and athenaCoordinator.
AthenaClinical maximizes productivity by streamlining administrative tasks and organizing moment-of-care entries in a way that makes sense. The software also tracks orders through results and follow-up treatment. Users enjoy access to America's most extensive network of clinicians, with continuous updates. The networked, EHR version is athenaClinicals, which adds back-office documentation and clinical workflow, from charting to documentation to patient tracking and reminders.
Free EMR Software Quotes From Top Companies!
For practice management and billing, the company offers the network-enabled athenaCollector, which features simplified workflows for every step of the patient process, from registration through to collections and reporting. Back-office services include billing, the claims process, remittance posting, and denied or unpaid claim follow-up.
For coordinating care and transmitting orders, there's the network-enabled athenaCoordinator. Network service elements include messaging, scheduling, referral management, and registration.
AthenaCommunicator is the patient portal designed to deepen patient engagement in their own care and improve loyalty to your practice. The system includes automated messaging for simple appointment reminders and follow-up care, live operator assistance, and a portal that allows patients to view their history, schedule appointments, and much more.
AthenaHealth EMR Features
AthenaClinicals meets Meaningful Use requirements via interoperability with outside facilities, providers, and practices. Other features include:
An interface with forms for creating medication and lab orders, with built-in checks against the patient's medical history to help guard against dangerous interactions or allergies
Test results connect to orders, which includes a reminder to alert you when it's time to check or post the results
Enter charting information manually or add Entrada mobile, an upgrade option that utilizes voice recognition
The scheduling interface includes a dashboard for a quick view of daily appointments
The patient portal allows appointment and prescription refill requests and reminders as well as a HIPAA-compliant system for sending messages, posting provider notes, and uploading test results
Upload educational resources and provider updates to the patient portal
Back-office capabilities, including claim management and answering after-hours phone calls
A mobile app that allows you to access and update the most vital features, such as ePrescription and charting
How Much Does AthenaHealth EMR Software Cost?
The cost of athenaHealth software varies widely depending on the features you choose, the size of your practice, and the number of providers. Estimating your cost is impossible without that information, but we can provide some basic pricing ideas.
A basic system to handle ePrescribing and scheduling starts at around $200 per month, per provider, but can go up to around $800 depending on features.
AthenaClinical costs average between $800 and $1,200 per month, per provider
AthenaCollector averages $500 and $1,000 per month, per provider
Web-based systems such as athenaHealth have grown quickly in popularity because they have a much lower up-front cost than traditional, self-hosted systems. Purchasing the hardware and licensing rights for self-hosting solutions can easily cost tens of thousands of dollars.
However, that does not mean that web-based systems have no infrastructure costs. Operating one of these solutions requires a reliable, fast Internet connection. You also want a T-1 line. If you don't currently have one, talk to your telecom provider.
Since the athenaHealth system runs over the Internet, if your practice does not have reliable service, a cloud-based solution may not work for you.
When comparing quotes from multiple vendors, make sure you're comparing comparable products. In other words, look at everything that goes into that price. If one vendor is incredibly low, you likely aren't getting a comparable product.
AthenaHealth EMR Software Reviews
AthenaHealth is one of the most highly-rated EMR software systems on the market, earning praise for its extensive features and user-friendly setup. Reviewers say that the system gets easier to use over time, as you customize and tweak it to suit your needs. Of course, there are also negative comments and reviews. Many users mention that the software has a higher price point than competitors' EMR software does, and some also talk about the system having too many features and functions, which made it difficult for them to master.
As is common in most product reviews, there are many conflicting reviews, with some users praising items while others had a bad experience. For example, most customers praise the athenaHealth's customer support but around 20 percent report issues in this area. Overall, the software earns around 4 stars out of 5. The most common pros listed for athenaHealth include:
User-friendly interface
Low upfront costs
Easy to implement
Reporting works well
Supports multiple sites
Detail-oriented system
Easy charting at point-of-care
Love the mobile option
User-friendly templates
The most common cons listed for athenaHealth include:
Pricey
Difficult to access files
Not good for all specialties
Requires tweaks for use in urgent care centers
Too many "clicks" to complete a task
Claims processing is problematic due to incorrect form completion
So many customizations, it takes a while to learn
Pharmacy defaults may lead to errors for patients who use more than one pharmacy
Before signing any contracts, look at as many reviews as you can, but also talk to others in your industry, particularly in your specialty. Find out which EMR system they use and what they think of it. And, if you can "try before you buy" definitely do that.
Author: Angela Escobar
Compare Competing Prices From The Best EMR Software Pros