MediTouch EMR Software Prices, Reviews, Complaints & Company Overview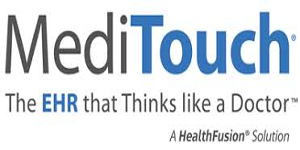 Founded by physicians for physicians, HealthFusion provides MediTouch EMR (electronic medical record) software, which can be used across a spectrum of specialties. This award-winning product is designed to make your job easier and improve the level of care you can offer to your patients. Both HealthFusion and MediTouch are a part of NextGen Healthcare.
About MediTouch EMR Software
MediTouch EMR software is now a NextGen property and is a fully-integrated web-based EMR solution that is interoperable with other medical practice software systems. Because it is a web-based software, it can be used anywhere with an Internet connection and runs on both Apple and Windows computers, as well as tablets. This allows you to quickly and easily access patient notes and other pertinent information to make changes or updates as needed. MediTouch EMR software makes your job easier, leaving you free to focus on your patients.
Free EMR Software Quotes From Top Companies!
MediTouch EMR Software Features
Certified for meaningful use, this web-based software comes with a variety of features designed to assist those in the healthcare profession. Some features of MediTouch EMR software include:
Charting: Typically a cumbersome or time-consuming process, MediTouch EMR software allows you to chart from anywhere at any time. The interface is designed to be user friendly and comes with pre-made templates.
ePrescribing: This feature allows you to send prescriptions to a pharmacy of the patient's choice and integrates with Surescripts, an ePrescribing network that is used across many different EMR and EHR softwares. It also allows you to view and track a patient's medication history.
History of present illness: MediTouch themselves lists the history of present illness system of their EMR software as one of the main benefits or features. Choose between pre-made and customized forms that allow you to put together the necessary and relevant patient information.
Patient portal: MediTouch EMR software comes with an integrated patient portal that provides patients with a private and secure way to access and track their health information.
How Much Does MediTouch EMR Software Cost?
Providing an exact cost for EMR software is difficult, as the total price largely depends on any additional features you choose, the number of people using the software, and the size of your practice.
MediTouch EMR software is web-based, so as long as you have the appropriate equipment to access the software, there are little to no upfront costs. A fast and reliable Internet connection is necessary, as well as a dedicated T-1 line. If you do not have a dedicated T-1 line, talk to your telecom provider about getting one installed. This will likely be your only upfront cost.
Web-based EMR software costs average between $800 and $1,200 per month, per provider

If your Internet connection is slow or unreliable, then you are probably better off with a self-hosted software. Self-hosted EMR solutions are faster, and, though the upfront costs are higher, those are the only costs.

Licensing costs typically run between $2,500 and $5,000
A dedicated server averages between $25,000 and $50,000, but can also be as little as $1,000 or as much as $200,000
Installation generally costs between $1,000 and $3,000
MediTouch EMR Software Reviews
It is common to find customer reviews for MediTouch EMR software boasting of its high quality. Customers frequently talk about how much they enjoy the speed of the software, stating it outperforms other web-based softwares in this respect. People also enjoy that it can be used across different operating systems and devices, which allows them more freedom of use. There are even some users that have found the software is continually improving.
Though most of the reviews for MediTouch EMR software are positive, there are customers that have their complaints. Users have pointed out that, while the software itself is fast, customer support is slow. There are also those that have said the server will go down, leaving them no way to access even recent office visits or patient information.
As with any other product, it is very important to read through all available reviews before a final purchasing decisions is made.
Author: Angela Escobar
Compare Competing Prices From The Best EMR Software Pros